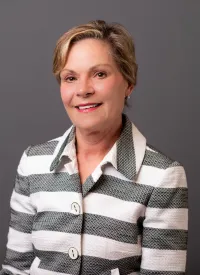 Zonnie Breckinridge
Of Counsel
Austin, TX
Education
1979 J.D. (summa cum laude, Order of the Coif) Tulane University School of Law, Recipient, Faculty Medal and Dean's Medal, Member, Tulane Law Review (1977-1979), Managing Editor (1978-1979)
1974 B.A (magna cum laude, American Studies) Tulane University
Zonnie Breckinridge is Of Counsel to Fenimore Kay Harrison. Ms. Breckinridge has dedicated her career to the legal needs of community and regional banks, thrifts, holding companies and other financial institutions, particularly in her native Louisiana. Ms. Breckinridge has over 35 years of experience in advising financial institutions, their directors, officers and related entities.
Relevant Experience
Ms. Breckinridge's practice includes chartering de novo commercial banks and trust companies, financial institution mergers and acquisitions, formation of bank holding companies, capital offerings, Subchapter S conversions, establishment and relocation of bank offices, branch purchase and assumption transactions, acquisitions of bank control, acquisition and formation of non-banking subsidiaries (e.g., insurance, brokerage and non-banking activities), acquisitions of troubled financial institutions, and directors and officers liability issues, ongoing compliance and strategic planning for financial institutions and advising clients on significant regulatory matters.
Ms. Breckinridge's corporate and securities practice includes mergers and acquisitions for publicly-held and private financial institutions, stock and asset acquisitions for publicly-traded and private financial institutions; SEC reporting and compliance (including annual and quarterly reports and proxy materials and Section 16 reporting); public and private securities offerings (e.g., common stock, preferred stock, synthetic equity and trust preferred securities); stock option plans and tender offers.
Honors and Awards
Louisiana Bankers Association Honor for Service to Louisiana banking industry (March 2010)
Louisiana State Bar Association President's Award, Outstanding Service (1992)
Memberships
Texas Bar Association
Louisiana State Bar Association, Secretary, Louisiana State Bar Association, 1994-1996, Editor, Louisiana Bar Journal 1994-1996
Texas Association of Bank Counsel
Louisiana Bankers Association, Bank Counsel Section, Member, Bank Counsel Committee (former Chairman)
Publications and Presentations
Ms. Breckinridge has been a frequent speaker at banking trade association conferences and other conferences and workshops.