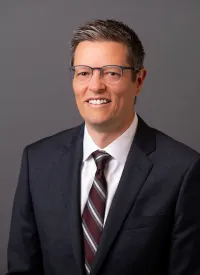 Jeremy S. Lemmon
Partner
Education
J.D., Hamline University School of Law, 2005, Editor in Chief, Journal of Public Law and Policy
B.A., Philosophy, Utah State University, 2002, cum laude, Undergraduate Teaching Fellow, Department of History
Mr. Lemmon's practice focuses on corporate, securities and regulatory representation of commercial banks, thrifts, holding companies, other financial institutions and their owners and investor groups. Mr. Lemmon regularly represents and advises clients on all matters related to mergers and acquisitions of public and private financial institutions and related entities, including stock and asset transactions, mergers of equals and other corporate finance transactions.
Mr. Lemmon also regularly represents issuers, placement agents and underwriters in public and private offerings (underwritten and self-directed) of equity and debt securities, including primary offerings and secondary transactions, private placements and offerings to employee stock ownership plans.
As an integral part of his practice, Mr. Lemmon regularly advises clients on a broad variety of bank regulatory matters involving the Federal Deposit Insurance Corporation, the Federal Reserve Board, the Office of the Comptroller of the Currency, and state regulatory agencies.
In addition, Mr. Lemmon regularly advises boards of directors and management teams regarding general corporate and commercial matters, including formation, corporate governance, risk management, corporate fiduciary matters, conflict of interest transactions, policies and procedures, and contractual arrangements, including employment, consultant, vendor, supply and other third party agreements.
Relevant Experience
Represented and advised public and private companies, including commercial banks and other financial institutions, holding companies, investor groups and portfolio companies, in numerous corporate mergers, acquisitions and corporate finance transactions of various types and structures, each valued between several million to over one billion dollars.
Represented and advised numerous commercial banks in the acquisition, establishment and divestiture of branch offices, real estate and other assets.
Represented and advised numerous issuers in private placements and other non-public offerings of equity and debt securities.
Represented and advised issuers in public capital raises, including offerings registered with the Securities and Exchange Commission and the Office of the Comptroller of the Currency.
Represented clients in the acquisition and divestiture of corporate divisions and various lines of business, including mortgage lending companies.
Represented and advised clients on strategic opportunities designed to enhance or protect shareholder value, including equity and debt offerings, share repurchases/tender offers, charter conversions, holding company formations, formation of operating subsidiaries, expansion of existing financial lines of business, anti-takeover strategic planning and corporate succession matters.
Advised clients on matters relating to FDIC-assisted acquisitions of failed financial institutions.
Memberships
Member, American Bar Association
Licensed to practice: Texas and Georgia
Publications
April 2016 Article: How to Protect Your Bank in a Sale: Reverse Due Diligence - published by BankDirector.com