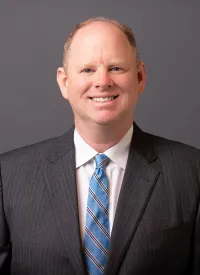 Geoffrey S. Kay
Partner
Austin, TX
Education
J.D., Louisiana State University, with honors
M.S., University of Edinburgh
B.S., Louisiana State University
Geoffrey Kay's practice focuses on corporate, securities and regulatory representation of small ($20-$25 million) to mid-size (several billion dollars) financial institutions and their holding companies. Mr. Kay's experience includes extensive work on merger and acquisition transactions, public and private capital raises, de novo banks, and regulatory matters.
Relevant Experience
Capital acquisition - Advises clients on all aspects of structuring and raising equity and debt through public or private offerings (underwritten or self-directed), including through the sale of common and preferred stock, synthetic equity, and senior or subordinated debt (including trust preferred securities).
Acquisition transactions - Advises clients on all matters related to the acquisition or sale of existing financial institutions (including shell charters), and the acquisition, sale, establishment and relocation of branch offices.
Regulatory compliance - Advises clients on a broad variety of bank regulatory and securities compliance matters, including SEC reporting and compliance (including Sarbanes-Oxley Act), blue sky issues, Bank Secrecy Act and anti-money laundering compliance, response to formal and informal administrative actions, Regulation O, transactions with affiliates and other general compliance matters.
Strategic business planning - Advises clients on strategic opportunities designed to enhance or protect shareholder value, including Subchapter S restructuring, "going private" transactions, "going public" transactions, share repurchases/tender offers, charter conversions, holding company formations, expansion of existing financial lines of business (insurance, securities and non-banking activities), anti-takeover strategic planning and corporate succession matters.
New bank charters - Advises clients on all aspects of obtaining new financial institutions charters (national bank, state bank, thrift, limited purpose and specialized financial institutions charters), including representation in connection with the regulatory application process, capital acquisition phase and early stage development.
Memberships
Member, Texas State Bar Association
Member, Louisiana State Bar Association
Member, Louisiana Bankers Association
Licensed to Practice: Texas and Louisiana