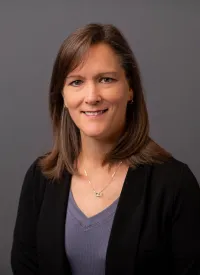 Stephanie E. Kalahurka
Partner
Kansas City, MO
Education
J.D., University of Texas, with honors, Order of the Coif, Managing Editor, Texas Law Review, 2003
B.B.A., Southwest Texas State University, summa cum laude, 1997
Ms. Kalahurka has a broad range of legal, regulatory and operational experience in the financial institutions industry. For almost two decades, Ms. Kalahurka's law practice has focused on the corporate and regulatory representation of public and private financial institutions and financial service businesses, with clients ranging from large, publicly-traded holding companies to smaller stand-alone community banks. In addition to her private practice, Ms. Kalahurka served for four years as an Adjunct Professor of Banking Law at the University of Kansas School of Law. She also previously served as a financial examiner with the Texas Department of Banking.
Ms. Kalahurka's corporate and securities practice includes negotiation and consummation of mergers and acquisitions for public and private financial institutions; public and private stock and asset acquisitions; SEC reporting and compliance (e.g., registration statements, periodic reports, proxy materials and Section 16 compliance); public and private securities offerings (e.g., common and preferred stock, senior and subordinated debt, and trust preferred securities); stock incentive plans and tender offers.
Ms. Kalahurka's regulatory practice includes representation of clients on enforcement matters in front of the U.S. Department of Justice and CFPB; responding to examination issues and negotiating regulatory enforcement actions; advising clients on director and officer liability issues; enterprise and vendor risk management; capital planning and Basel III compliance, general consumer compliance (e.g., Fair Lending, CRA, RESPA, navigating recent CFPB mortgage regulations); responding to SEC inquiries; regulatory application matters in corporate transactions; chartering de novo financial institutions; establishing branch and agency offices for foreign financial institutions; change in bank control issues; acquisition of non-banking subsidiaries and failed financial institutions; ongoing compliance, strategic and capital planning.
Ms. Kalahurka also has years of experience assisting clients with state money transmitter licensing, compliance and enforcement matters.
Relevant Experience
Represented multi-billion dollar trust organization in charter conversion and related matters.
Experienced representing clients with money transmitter licensing/exemptions matters.
Represented public and private banks and bank holding companies in numerous M&A transactions.
Represented public financial institutions in preparing quarterly, annual and other periodic securities filings.
Represented numerous issuers in the private placement of equity capital.
Represented foreign banking organizations in the establishment of domestic branches and agency offices.
Assisted numerous financial institutions in responding to examination issues and negotiating enforcement actions.
Represented organizers in the establishment of de novo commercial banks (state and national banks) in various states.
Selected Publications
September 2021. Article for Texas State Bar: Unintended Consequences of the Current Statistical Approach to Enforcement of U.S. Fair Lending Laws
November 2019. Articles for Missouri Banker: HUD's Proposed Disparate Impact Rule: A (Baby) Step in the Right Direction
July/August 2015 Article: Strategic Alternatives for Community Banks to Generate New Capital - published in The Texas Independent Banker magazine
March 2010. Co-author, Federal Reserve Requires Banks to Implement New Overdraft and Related Disclosures, Electronic Banking Law & Commerce Report
January 2008. Co-author, Health Savings Accounts and the Convergence of Healthcare and Banking, Banking Law Journal
Fall 2006. Author, Proposed Guidance on Concentrations in Commercial Real Estate Lending, Real Estate Finance Journal
February 2006. Co-author, Less is More: Changing the Regulator's Role to Prevent Excess in Consumer Disclosure, The Banking Law Journal
October 2004. Co-author, Overdraft Protection Programs: The Emerging Battleground for Bankers and Consumer Advocates, The Banking Law Journal
July/August 2004. Co-author, NSF Programs: The New Regulatory Offensive, Banking Traditions
July/August 2003. Author, Toward a Bank-LLC: Analysis and Implications of the FDIC's Final Rule Allowing Banks to Organize as Limited Liability Companies., The Banking Law Journal
Membership
Former Member, Board of Editors, The Banking Law Journal
Member, American Bar Association
Former Officer, Financial Institution Section of Austin Bar Association
Texas Bankers Association
Independent Bankers Association of Texas
Louisiana Bankers Association
Missouri Bankers Association
Missouri Independent Bankers Association
Kansas Bankers Association
Member of the Texas State Bar
Member of the Missouri State Bar
Licensed to practice: Texas and Missouri
Awards and Professional Recognition
University of Kansas School of Law - Adjunct Professor of Banking Law (2016)
Selected as a Finalist for the Austin Under 40 "Austinite of the Year" Award (2008)
Named a "Texas Rising Star" in the area of Banking Law by Texas Super Lawyers and Texas Monthly Magazine (2007 and 2008)
Community Involvement
Volunteer for Kansas City MLB Urban Youth Academy
Pro Bono Representations through Volunteer Legal Services of Central Texas
Member, Board of Directors, The LAM Foundation (2006-2009).
Volunteer for Junior Achievement
Volunteer for Big Brothers and Big Sisters of Central Texas (2003-2005).