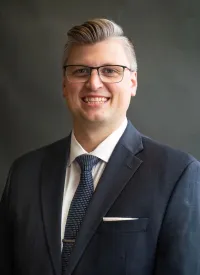 Mathew A. Petersen
Senior Attorney
Kansas City, MO
Education
J.D., University of Kansas School of Law, Order of the Coif, Pro Bono Distinction, Editor-in-Chief, Kansas Law Review (Vol. 66), 2018
M.B.A., University of Kansas School of Business, 2018
B.G.S., Economics, University of Kansas, 2012
Mr. Petersen's practice focuses on servicing financial institutions with a broad range of legal, regulatory, and operational issues.

Mr. Petersen's corporate and securities practice includes representing public and private financial institutions in the negotiation and consummation of mergers and acquisitions, public and private stock and asset acquisitions, and public and private debt and equity security offerings.

Mr. Petersen's regulatory compliance practice includes representing clients with regard to compliance with consumer finance and fair lending laws, building compliance management systems, and FinTech partnerships. Mr. Petersen also represents clients on enforcement matters involving the CFPB, the Federal Deposit Insurance Corporation, and other state regulatory agencies.

Mr. Petersen also has experience assisting clients with state lending and collection licensing, compliance, and enforcement matters.
Represented banks and bank holding companies in numerous M&A transactions.
Counseled clients in commercial lending transactions.
Assisted financial institutions and fintechs in establishing banking-as-a-service and joint lending programs, including developing a compliance management system and drafting consumer loan documents and disclosures.
Guided client in developing a state-licensed consumer loan product offered online and at point-of-sale.
Advised clients in general corporate and other commercial matters, including negotiating vendor agreements, employment agreements, and other general matters.
Represented clients in responding to civil investigative demand and other enforcement actions.
Member, American Bar Association
Kansas Bankers Association
Community Bankers Association of Kansas
Missouri Bankers Association