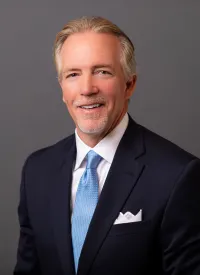 Chet A. Fenimore
Chairman
Austin, TX
Education
J.D., University of Oklahoma, with honors, 1993
B.A., Oklahoma State University, 1985
Mr. Fenimore is the co-founder and Chairman of one of the premiere community banking specialty law firms in the United States, Fenimore Kay Harrison. He brings more than 30 years of experience as a legal advisor to financial institutions and as a former federal and state banking regulator. Mr. Fenimore represents banks, thrifts and other financial institutions, as well as their investors, directors and executive officers in a full range of corporate, transactional, securities and regulatory matters confronting the financial services industry. His extensive experience in the fields of bank mergers and acquisitions, bank regulatory matters, securities law and corporate governance provides a solid foundation for his representation of financial institutions in a broad variety of transactions. Prior to founding his own law firm, Mr. Fenimore was the Managing Partner of the Austin office of a large international law firm.
Relevant Experience
Served as counsel to public and private banks and bank holding companies in numerous bank merger, acquisition and reorganization transactions.
Served as counsel to issuers and underwriters on numerous public and private offerings of equity and debt securities.
Served as counsel to organizers and founders in numerous de novo bank formations.
Served as counsel to issuers in numerous trust preferred securities transactions.
Served as counsel on numerous bank Subchapter S conversions.
Background
Bank examiner, Oklahoma Banking Department and the Office of the Comptroller of the Currency.
Membership
Member, Texas State Bar Association
Member, Oklahoma State Bar Association
Member, American Bar Association
Member, Travis County Bar Association
Member, Financial Institutions Legal Counsel Network
Member, Texas Bankers Association
Member, Texas Independent Bankers Association
Member, Oklahoma Bankers Association
Member, Community Bankers Association of Oklahoma
Member, Louisiana Bankers Association
Member, OSU Alumni Association
Licensed to practice: Texas and Oklahoma
Leadership
Publications
Co-Author - SNL Bank Founder's Guidebook
Author, numerous articles and made presentations to various banking groups on topics of interest to financial institutions.