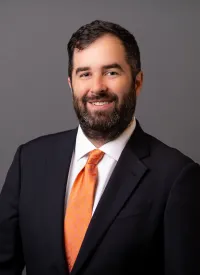 John T. Wilson, Jr.
Senior Attorney
Austin, TX
Education
J.D., University of Texas School of Law, 2012
A.B., Harvard University, 2009
Licensed to practice in Texas
Mr. Wilson's practice focuses on financial institutions, with particular emphasis on mergers and acquisitions, securities offerings, public company reporting and compliance, bank regulatory compliance, and corporate and operational matters. In particular, Mr. Wilson advises his clients on matters related to the acquisition or sale of existing financial institutions or branch offices, initial public offerings (including as issuer's and underwriter's counsel), public and private debt and equity security offerings, public company SEC and exchange reporting and compliance matters, and vendor management, employment and other general corporate matters. Mr. Wilson also advises financial institutions regarding regulatory compliance matters involving the Federal Deposit Insurance Corporation, the Federal Reserve Board, the Office of the Comptroller of the Currency, and other state regulatory agencies.
Relevant Experience
Represented numerous public and private banks and bank holding companies in M&A transactions since joining FKH in 2015, including whole bank acquisitions, mergers of equals, and branch transactions
Represented numerous public and private banks and bank holding companies in issuance of public and private debt and equity securities
Represented and advised private companies and underwriters in multiple initial public offerings, totaling over $400.0 million in gross proceeds, as well as advised a "dry listing" on NASDAQ of a public reporting bank holding company that was not publicly traded
Advised numerous clients on preparing quarterly, annual, and other periodic securities filings
Advised numerous clients in general corporate and other commercial matters, including negotiating vendor agreements, employment agreements, and other general matters
Memberships
Texas Exes Alumni Association
Harvard Alumni Association
Independent Bankers Association of Texas
Texas State Bar
Austin Bar Association
Houston Bar Association
Licensed to practice: Texas

Publications
September 2015 Article: Avoiding Pitfalls in Your Bank's Data Processing Agreement- published by BankDirector.com